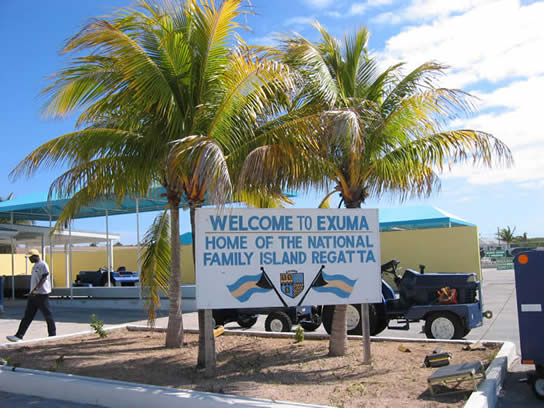 The airport at Georgetown
The ride down to Georgetown was fun. I asked the owner of MacDuff's, a very knowedgable pilot, about how to get there and he said, "I go about 800 feet and keep to the right side of the islands." At first I thought he might be putting me on, the way locals often do to tourists. But then I saw a few small planes go by Norman's headed south on the right side of the island and very very low. So that's how we did it. The Exumas are a chain of islands; you can almost throw a stone from one to the next. It was an exhilerating ride-- we were low enough to see people's homes and boats as we screamed by at 170 kts. I climbed to 1000 to get into the landing pattern at Georgetown.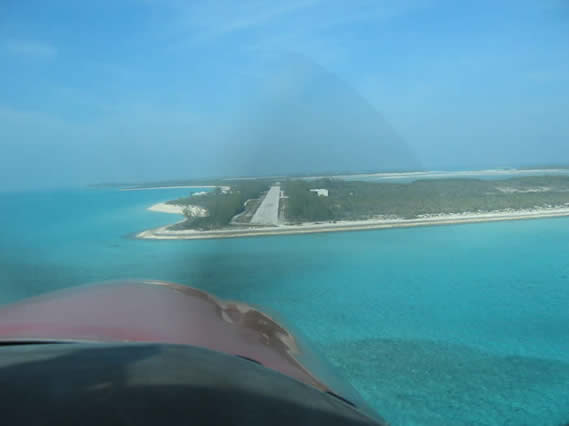 Landing back at Normans
The trip back to Normans was uneventful, but the landing sure was interesting. This is not a place you want to land short. There was a pretty good crosswind, but it seemed to be broken up fairly well by the trees alongside the runway. Our bungalow is the white dot you see on the beach just to the left of the runway.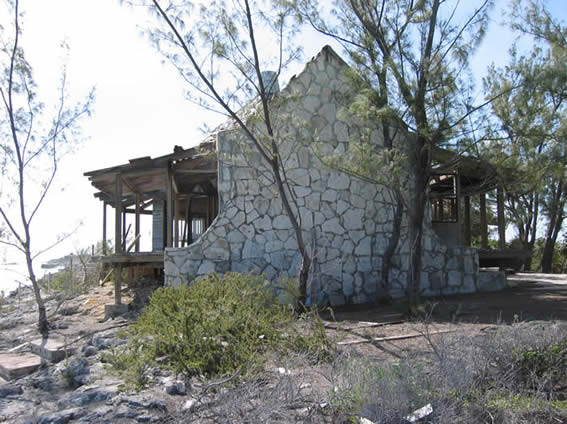 I'd rather be in Philadelphia.
We walked around the island quite a bit. There were only a few private homes. We were especially interested in this place. Huge house, magnificent views. Obviously built at enormous expense. Turns out it is the former home of the infamous drug dealer Carlos Lehder. Carlos was doing 135 years in a supermax in Minnesota after his arrest in 1988, but is reported to have ratted out Manuel Noreiga, and thus got a slot in the witness protection program. He now works at the convenience store down the street from me. I bought a slurpee from him just yesterday.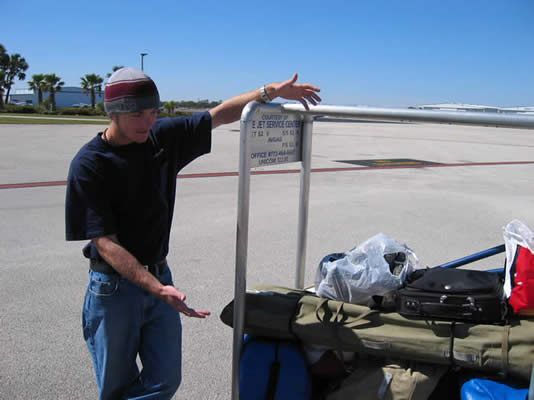 How did you fit all this stuff in that tiny plane?
I planned the trip back so we would get to Philadelphia around dusk. That meant leaving Normans in time to be in North Eluthera at 9:00 a.m. when the Customs Office opened, get some fuel, then on to Fort Pierce. You must also call the U.S. Customs office at the airport where you will be landing by phone and tell them you are coming. No radio calls from the plane. We got to North Eluthera early and got fuel and did our outgoing Bahamian customs without a hitch, but when I went to call the Customs office at Fort Pierce I got a recording saying they didn't open until 10:00. So we sat in North Eluthera until 10:10 when we were able to get through. So we started our day an hour behind schedule.
All the stuff I'd read about US Customs procedures said once you land you must absolutely positively not leave the plane until it has been okayed by a customs officer. The implication is that you might be shot. I took this very seriously. When we landed at Fort Pierce the first thing my wife said was that she needed to use the bathroom. We pulled up in front of the Customs Building and waited and waited. And waited some more. Finally the kid you see in the picture above wandered over. He informed us that he was a student at the nearby flight school and that for a tip he would help us unload the contents of our plane and bring it inside. My wife heard this and bolted for the bathroom.
We loaded all our stuff on a cart and rolled it into the Customs Building. There was another sleepy guy with his feet on his desk. He stamped our passports and said we could go. My annoyance got the better of me and I said,
"Hey, it took me half an hour to load all my stuff on this cart. Are you going to look at it?"
The guy put his feet back on his desk and said,
"No."
So we put all the stuff back in the plane and decided to have a little lunch. We were now a couple of hours behind my carefully worked out plans and it just seemed like the right thing to do. We made a fuel stop at Grand Strand, SC and got back to Philadelphia in under six hours of flying time.